To get VIP status at Olymp Trade, called Expert on the platform, make a one-time deposit of $ 2,000 to your trading account.
After that, you will receive the following benefits:
Olymp Trade Increase in Return on Assets
The profitability of traders in the Expert status is 10% higher than that of ordinary traders.
Increase in the maximum trade amount: $ 5,000 for FFT and $ 4,000 for FX (Forex).
Olymp Trade Personal VIP-consultant
The company will provide you with experts to help you answer any trading-related questions and give you sound advice. They support you and teach you online trading strategies. You will be taught the secret trading strategies.
You get the opportunity to participate in private theoretical and practical webinars, as well as receive daily market reviews, instructions and guides. With videos, articles, strategies and indicator tutorials, you will quickly learn the trader's profession.
Market Entry Signals
Experts must predict whether the price of a particular asset will increase or decrease over the next few hours. You can refer to these signals when using an expert account.
You will be added to the "Increase Your Trading Volume" program
This program allows you to receive risk free trades monthly for high volume trades. Risk-free transaction: 100% safe and risk-free transaction. This means that if you enter a trade and win, you will receive money. Otherwise, you will not lose money. The amount you can earn with a risk-free transaction will be 5% of your initial deposit.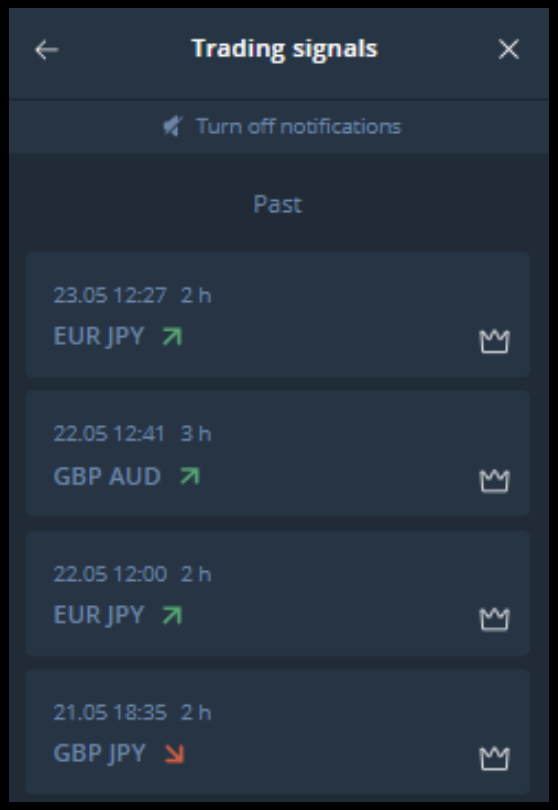 Super Fast Cash Withdrawal
Even if you make a request to withdraw a large amount, your application is processed within a few hours. It is often hard to believe when after a withdrawal request is made, and after an hour the money is in the trader's account.
The Maximum Number of Orders Opened Simultaneously
Having the status of an Expert on Olymp Trade, you can open up to 30 consecutive orders on FFT and Forex.
You will grant access to all of the above privileges if you have an Expert account.