Today, trading is becoming a convenient and fairly simple way to make money. While every trader has their own individual needs, with Olymp Trade apps, you can now find a way to satisfy any of them, no matter where and how you prefer to trade.
The Olymp Trade web application allows you to trade from home or office and has been widespread for quite short time. But this is just one of 4 ways to make transactions with assets.
You can use Olymp Trade's standard web browser platform.
Application for your desktop computer
Applications for iOS and Android mobile devices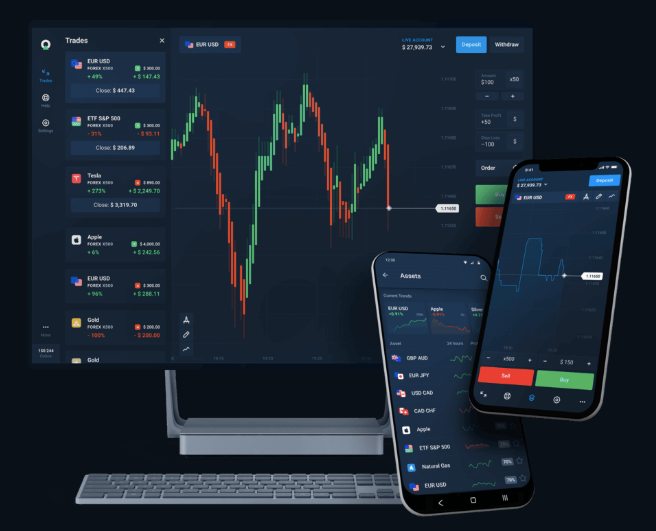 Olymp Trade App For Desktop
The highest level of security is provided by Olymp Trade desktop application. The built-in features help protect traders from various cyber threats, and also provide the best operating speed, regardless of other circumstances.
When security is of the utmost importance, the Olymp Trade desktop application will be the best solution in this situation, since, for example, any browser has its own vulnerabilities and is open to attacks and fraudsters.
The speed of the Olymp Trade desktop application will be useful for those traders who currently have devices with low computing resources available to access the trading platform, which the browser consumes much more than the desktop version.
Applications for iOS and Android mobile devices
Convenient mobile application: Olymp Trade apps available for Android and iOS allow you to easily continue to be in the market anywhere in the world – just have a smartphone or tablet with you.
Questions Traders Are Most Interested In About Olymp Trade Apps
Are there any differences when trading in a desktop application or just in a browser?
All features, functions and tools are equally available in both use cases of the Olymp Trade platform. You can trade the same assets and use the same settings, with a desktop application being safer from the cyber security side and a faster option.
What assets are available for trading on the mobile app?
Almost all functions are available in mobile applications from Olymp Trade, so that traders do not have any restrictions on their trading opportunities, wherever they are at the moment they trade. The only limitation for mobile devices is the screen size, which may not always be large enough to display full information on the platform and in graphs.
When using different applications from the Olymp Trade platform, will the profit or fees differ?
Only MetaTrader4 may differ in some functions due to the peculiarities of its integration. All other options for applications from Olymp Trade will not have any difference between profitability, fees and payments.
Do I need to create a different account for different Olymp Trade app every time?
For MetaTrader4 only, a separate number will be automatically generated for you, since it has a slightly different structure and operation. In all other cases, you will only need to create one general account once, to which all available applications for the Olymp Trade platform will be connected.
Summary
You can use all the wide possibilities provided by Olymp Trade on any of their platform applications. In addition, the company is constantly working to improve its products and customer service, so you can be sure you will get the best.